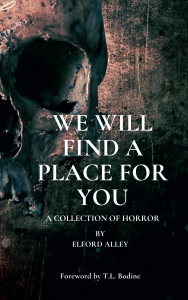 Today is the day! We Will Find a Place for You: A Collection of Horror is available for purchase in ebook and paperback format! I'm so excited to finally have this book out in the world. This collection features 23 stories, and a wider variety of tales than I've included in my previous collections.
Two of these stories, We Need Your Donations and Footsteps in the Hall, were featured in the Cemetery Gates Media publications Campfire Macabre and Paranormal Contact. Two 100-word stories, My Child and Silent Deserts, were in the Ghost Orchid Press publications Beneath and Cosmos. I've also included two plays! Learned Executioners was a ten-minute play produced by The Navigators Theater in 2019, and my full-length play Ghosts, which was part of the Capitol Fringe Festival in 2018.
But the vast majority were tales written during the pandemic, and previously unseen. I hope you enjoy it, and I have some big plans for 2022!
You can pick it up on Amazon or through my website!