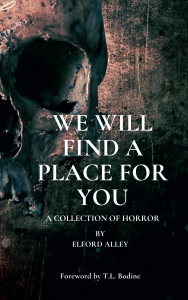 Ready for some terrifying short stories? I have a collection that is perfect fort he spooky season. That's right, We Will Find a Place for You is coming out October 26th and you can preorder it here. Plus:
You can also add it to your Goodreads too.
This collection features 26 horror stories, from flash fiction to novelettes and even a play or two. Much of it was written during the pandemic, with the exception of the plays, which were produced in 2018 and 2019. This is my first new collection since 2019's Find Us and Other Stories. Many stories deviate from traditional story formats and styles, making this very different from my other collections. I hope you all enjoy it!
I'm also so excited  to announce that the foreword is being written by T.L. Bodine, author of River of Souls, House of Lazarus, and The Hound.