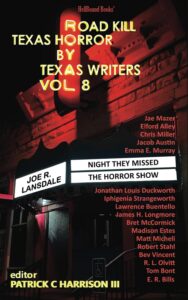 I'm so excited to announce my story, Make Up Your Dying Bed, is part of Texas Roadkill Volume 8! I love this anthology series, featuring the best of Texas horror. I've submitted before, and third times a charm, it seems! So, never give up on your dream publishers/anthologies/magazines.
Edited by Patrick C. Harrison III, and with stories by Joe R. Lansdale, Emma E. Murray, Jae Mazer, Bret McCormick, Madison Estes, Chris Miller, James H. Longmore, Jonathan Louis Duckworth, Robert Stahl, Matt Micheli,
Iphigenia Strangeworth, Jacob Austin, R. L. Olvitt, Lawrence Buentello, Tom Bont, Bev Vincent, and of course, the awesome E. R. Bills.
My story focusing on the last hours of Blind Willie Johnson's life, spent succumbing to exposure in the burnt remains of his home. As with many blues legends, whose legacies would make millions for others, the man is often forgotten, even if the music survives.